LOCAL VILLAGES
Aups: Pretty little streets lead off the large central square where busy street markets take place on Wednesdays and Saturdays all year round. Numerous bars and restaurants, which remain very much alive out of season.
Cotignac: The most ancient and beautiful village in the Centre Var. The prettiest street market every Tuesday throughout the year plus numerous brocante and antique markets in summer. Excellent boutiques for antiques, fabrics and possibly the best Kilim rugs shop in Europe. Recommended restaurant La Table de la Fontaine on the main square, Cours Gambetta.
Entrecasteaux: Famous for its Château dating from the 12C, where Madame la Marquise de Sevigne wrote some of her renowned letters in the 17th century, many to her daughter whose husband owned the chateau. Gardens by Le Notre, who also designed the gardens of Versaille. Chateau opens daily to the public at precisely 4pm. Eccentric interiors, worth the visit! Best restaurant La Fourchette near the Chateau.
Sillans-la-Cascade: A short walk from this small village brings you to a dramatic waterfall where the river above drops 100 metres over a cliff into a lovely pool beneath. The Restaurant des Pins serves simple, well-prepared meals. The nearby Chateau sometimes has art exhibitions.
Tourtour: Alias the "village in the sky",

with the best views in the area. Restaurants and bars surround the tiny central square with open-air concerts in summer. La Bastide de Tourtour is its grandest hotel with a good restaurant, though a bit formal. For gastronomy try Restaurant La Table just beyond the arch from the central square.
Villecroze: A small typically Provencal village. Best restaurants La Lavande and L'Annexe in the main square. La Poterie du Soleil, just outside the village on the Draguignan road, designs, makes and sells some of the most stylish pottery in the area
Moustiers: A favourite of ours, this village is nestled into the side of the mountain and is famous for it's china and famous, delicate white pottery.
There are numerous cafes, restaurants, and boutiques brimming with Provencal print fabrics, lavender infused soaps, bath oils and drawer sachets, unguents, lotions and potions made from the gorgeously scented, locally grown lavender. Just below the village lies another Michelin starred Alain Ducasse gem, La Bastide de Moustiers – Ste. Marie.
Lorgues: One of the larger villages, Lorgues is home to Chez Bruno. Chef Bruno Clement's passion is the indigenous black truffle, and many of his dishes include the luscious, rare delicacy. His "tasting menu" is to die for.
The Coast.
St Tropez, still very attractive despite its popularity, is only an hour away out of season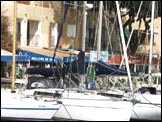 though often longer in high summer. There is an excellent market in the main square on Fridays, plus numerous boutiques, bars, restaurants, good beaches and usually some lovely yachts in the harbour.
PLACES OF INTEREST
Abbaye du Thoronet – a beautifully restored 13C Cistercian monastery with astonishing acoustics. One of France's cultural treasures.
Abbaye de la Celle (near Brignoles) a part-restored Cistercian monastery beside an excellent restaurant-hotel, Hostellerie de l'Abbaye, created by France's top chef, Alain Ducasse. A good wine-shop selling Coteaux Varois wines is next door.
The Prehistory Museum (designed by British architect Lord Norman Foster) at Quinson near the Gorges de Verdun, Europe's richest area for prehistoric discoveries. Ideal for children and adults interested in archaeology and ancient history.
Lac de Ste Croix, a huge and beautiful man-made lake-reservoir. Good little beaches for picnics and a refreshing swim. Pretty villages around the lake with typical Provencal restaurants. Electric boats can be hired for self-guide water tours into the Gorge itself.
Art.
Many of the vineyards put on Art et Vins shows in season. There are art galleries in most villages.
Music.
There are numerous concerts in the area, notably at Cotignac, Entrecasteaux, Villecroze and Tourtour, from classical chamber music to jazz, which take place mainly in summer.
Golf.
The nearest good golf-courses are at Barbaroux, near Brignoles, and St Endreol, near Le Muy/Draguignan. There are more at St Raphael and around Mougins and Cannes.
Wine.
There are hundreds of vineyards (wineries) in the Var. These days most of them make good wine, mainly rose and red, though there some good whites. It's better to buy wine at the vineyard, where you can have free tastings, rather than at supermarkets.
The best local vineyards include Ch Carpe Diem (Cotignac), Domaine Saint Janet (Cotignac) Domaine Nestuby (Cotignac), Ch d'Aspras (Correns), Dom de l'Arnaude (Lorgues), Ch Ste Beatrice (Lorgues), Ch de Berne (Lorgues), Dom la Rose Tremiere (Lorgues), Ch de Rasque (Taradeau), Ch d'Astros (Vidauban), Ch St Jean (Villecroze). There is a good specialist wine shop on the outskirts of Draguignan. At Les Arcs, the shop of La Maison des Vins wine institute sells selected Cotes de Provence wines and, at La Celle near Brignoles, a shop sells a selection of Coteaux Varois wines. Most Varois wines use a blend of several grape varieties, principally Cabernet Sauvignon, Cinsault, Grenache, Merlot, Morvedre and Syrah, though one can find wines made solely from Cabernet, Merlot or Syrah. It's worth noting that local rose wines are made from red grapes and are just as alcoholic as the reds!!
Further to the west.
Aix-en-Provence is a miniature Paris in the sun. Atmospheric narrow streets housing restaurants and tempting boutiques fanning out from the magnificent, rightly famous, boulevard Cours Mirabeau full of street-life with its buzzy pavement cafes, fountains and stylish architecture. Excellent street markets on Tuesdays, Thursdays and Saturdays.
Avignon, Arles and the Carmargue are a day trip away. Italy can be reached in under 3 hours.